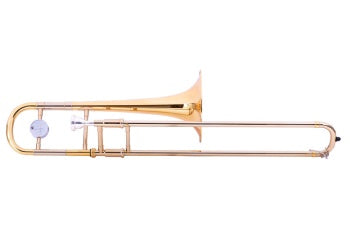 JP Rath 236 Alto Trombone
Regular price $1,150.00 $995.00 Sale
The JP236 Rath Eb Alto Trombone follows in the footsteps of previous JP Rath instruments which pushed the boundaries of what was thought possible in the development of student friendly instruments. Designed in collaboration with Michael Rath, one of the UK's finest trombone designers and manufacturers, The JP236 Rath is lightweight, free blowing and consistent across all registers, a hurdle which most lower priced alto trombones fall at. The instrument is rich in features and with a high level of specification enables players of all ages to become familiar with the 7 slide positions. An exclusively designed Rath leadpipe delivers professional level sound and the instrument's exceptional build quality is sure to inspire students to develop their playing further.
The JP236 Rath Eb Alto Trombone is constructed from high grade 80:20 brass throughout and features a .481" bore ensuring it is free-blowing across the whole register. It also features a 7" bell enabling greater sound projection.
The JP236 Rath Eb Alto Trombone is supplied with a JP606 mouthpiece and lightweight case. The case is well designed to be robust yet lightweight and to provide as much protection to your instrument as possible. It is equipped with backpack straps and a comfortable should strap as standard and also includes a small storage pocket accessible from the outside suitable for storing small accessories and sheetmusic.