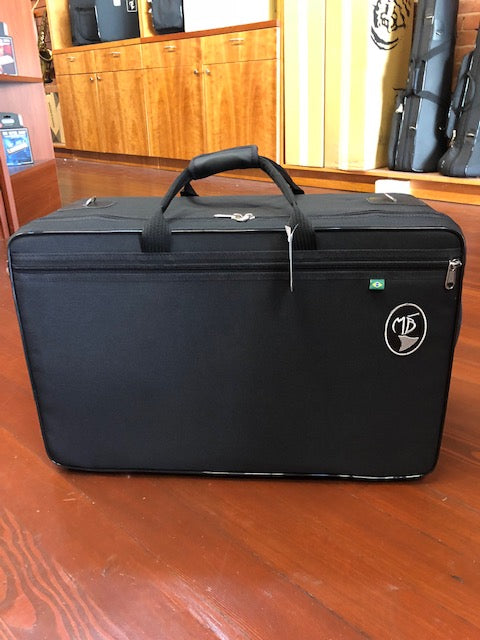 Marcus Bonna Quad Trumpet Case
Regular price $510.00 Sale
Item Details
This is a lightweight fiberglass case for 4 trumpets, made by Marcus Bonna in Brazil.
The interior of this case is completely modular, so you can decide how to fit your trumpets and more inside.  All pads and dividers can be moved or taken out.  It fits nearly any 4 piston or rotary  trumpets, Bb or smaller.  You can also remove a divider and replace two of the trumpets with a flugelhorn. It has a small interior storage compartmens and a larger pocket on the outside.  The nylon outside cover is attached to the shell with Velcro style fasteners and can be removed for cleaning, repair or replacement.  The fiberglass shell has foam attached to both its interior and exterior, and the interior is a soft plush fabric.  Several interior foam pads can be repositioned to permit a perfect fit for your trumpets.  Metal latches align the halves, and zipper closure assures no errant openings en route.  Accessories included are double backpack straps and a single shoulder strap, a double mouthpiece pouch and an ID tag.  The standard color is black, but other colors are available by special order.  Leather exterior is available as well.  Please contact us directly if you seek something specific.
We offer two additional versions of the Marcus Bonna 4 Trumpet case:
Compact: This case is slightly shallower, allowing a slightly smaller and lighter case.  It is more difficult to use the compact version for 2 trumpets and a flugelhorn.  If that's your standard assortment, choose the standard 4 trumpet case instead.
Laptop: This case has a deeper lid to allow storage of a small laptop size computer.  Other details are similar to the compact 4 trumpet case.
Weight: 10 lbs, 12 oz
Dimensions: 9x14x22"