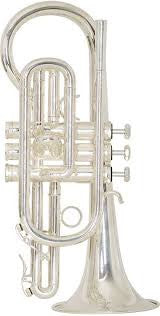 Schilke XA1 Bb Cornet with Case.
Regular price $3,705.00 Sale
XA1 Bb Cornet – English Short Model with Shepherds Crook
ML Bore–  (.460"/11.68mm)
Bell – (5.00"/127.00mm)
Copper Bell with #1 Taper
The XA1 Bb cornet has a vintage English cornet design with a tighter wrap for a dark, rich, intimate sound.  Ideal for brass band playing or jazz settings.