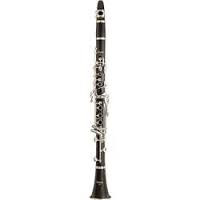 Selmer CL201 Bb Wood Clarinet
Regular price $1,882.00 Sale
About the Model CL201
Based on the original designs of George Bundy's student clarinets, Selmer clarinets offer construction that is built to last a lifetime. Combining durable drop forged nickel silver keys, straight cut tone holes, and an unstained grenadilla wood body, these instruments will hold up year after year.
Features
The medium .573" complex bore gives students a slight resistance that helps develop a well controlled even focused mature sound.
Undercut tone holes offer students a smooth even scale with better control over intonation.
Specially designed drop forged, nickel-silver keys are durable and resistant to bending. 
Wide pinky key designs make it easy for students with smaller fingers to reach.
Unstained grenadilla wood gives students an instrument that will provide rich warm tone from an earlier start, making it easier to develop musically.
The Selmer CL201 includes a hard rubber mouthpiece for a vibrant responsive tone that helps develop proper embouchure habits from an early age.
Built in the USA (Elkhart, Indiana), the Selmer CL201 has built a foundation of trust with educators around the world.