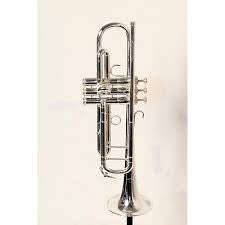 Shires Bb Trumpets
Regular price $4,095.00 Sale
Trumpets in B-flat were the first that S.E. Shires Co. produced, and which cemented its reputation as one of the world's leading trumpet makers. Players the world over have discovered that their sound, ease of playing, and consistency makes them ideal for just about any musical setting.

All S. E. Shires trumpets feature a one piece, hand hammered bell with a traditionally brazed seam, hand-lapped Monel pistons, and the careful assembly and handcrafted methods that the S. E. Shires Company proudly embodies with its slogan: Quality without compromise.™
Model A
Bore: .

459

Model A Bell: 4 13⁄16 inch, one piece, hand-hammered "A" (centered) taper in standard-weight yellow brass with traditionally brazed seam and standard bead
WH Leadpipe: .

347

-inch venturi, heavyweight yellow brass—open and free blowing with well defined slots and easy response

W Tuning Slide: dual-radius bend, standard water key—strong core, brilliance, and presence of sound
Model AZ
Bore: .

459

Model AZ Bell: 4 13⁄16 inch, one piece, hand-hammered "A" (centered) taper in standard-weight yellow brass with traditionally brazed (side) seam, standard bead, and dual radius bend
WH Leadpipe: .

347

-inch venturi, heavyweight yellow brass; open and free blowing with well-defined slots and easy response

W Tuning Slide: dual-radius bend, standard water key; strong core, brilliance, and presence of sound
Model AF
Bore: .

459

inch
AF Bell: 4 13⁄16 inch, one piece, hand-hammered "A" (centered) taper in standard-weight yellow brass with traditionally brazed (side) seam, French bead, and dual-radius bell bend
W

05

Leadpipe: .

345

-inch venturi, lightweight yellow brass—efficient, flexible, open and free blowing, with easy, immediate response

W Tuning Slide: dual-radius bend, standard water key—strong core, brilliance, and presence of sound
Model B
Bore: .

459

inch
Model B Bell: 4 13⁄16 inch, one piece, hand-hammered "B" (broad) taper in standard-weight yellow brass with traditionally brazed seam and standard bead
WH Leadpipe: .

347

-inch venturi, heavyweight yellow brass; open and free blowing with well-defined slots and easy response

W Tuning Slide: dual-radius bend, standard water key—strong core, brilliance, and presence of sound
Model BLW
Bore: .

459

inch
BLW Bell: 4 13⁄16 inch, one piece, hand-hammered "B" (broad) taper in lightweight yellow brass with traditionally brazed seam and standard bead
W Leadpipe: .

347

-inch venturi, lightweight yellow brass; open and free blowing with well-defined slots and easy, immediate response

X Tuning Slide: dual-radius bend, standard water key; free blowing and flexible, with great response
Model CLW
Bore: .

459

inch
CLW Bell: 4 13⁄16 inch, one piece, hand-hammered "C" (open) taper in lightweight yellow brass with traditionally brazed seam and French bead
Z Leadpipe: .

345

-inch venturi, lightweight yellow brass; provides extra focus for optimal projection

X Tuning Slide: dual-radius bend, standard water key—free blowing and flexible, with easy response
Model CMW
Bore: .

459

inch
CMW Bell: 4 13⁄16 inch, one piece, hand-hammered "C" (open) taper in standard-weight yellow brass with traditionally brazed seam and French bead
W

05

Leadpipe: .

345

-inch venturi, lightweight yellow brass—efficient, flexible, open and free blowing, with easy, immediate response

XD Tuning Slide: dual-radius bend, dual bore, standard water key; free blowing and flexible
ModelCVP
Bore: .

459

inch
CVP Bell:

4

.

75

inch, one piece, hand-hammered "C" (open) taper in lightweight yellow brass with traditionally brazed (side) seam, French bead, and dual-radius bell bend
U

5

Leadpipe: .

345

-inch venturi, lightweight yellow brass—efficient, open, and flexible

C Tuning Slide (with brace): semi round, dual-radius bend with standard water key—flexible; responsive and malleable at low volumes, powerful and bold at high volumes.