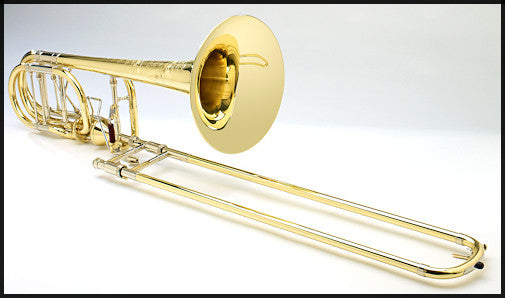 Shires Custom Bass Trombone with Axial-Flow F/G♭ Attachment
Regular price $6,490.00 Sale
The S.E. Shires Custom BII

7

YM bass trombone is a versatile instrument with a clear, pure sound and the consistency, playability, and projection that has made S.E. Shires trombones the favorites of professionals the world over. The unique S.E. Shires BII

7

YM bell combines the quick response and color of a one-piece bell with the centered feel and expansive tone of a two-piece bell. The BII taper in yellow brass produces a broad, rich sound that is very balanced and flexible throughout the range of dynamics. The axial-flow valves feel very broad and even—especially when both valves are engaged—and allow for a truly open low register.
BII

7

YM Bell:

9

.

5

inch, two piece, hand-hammered "BII" taper in medium weight yellow brass with traditionally brazed seam and soldered bead

Independent, S.E. Shires F/G♭ axial-flow valves

Tuning Slide: BYB—"B" taper, drawn yellow brass

B

62

Handslide: .

562

-inch bore, standard weight yellow brass, nickel-silver crook

Three interchangeable yellow-brass leadpipes

Bell Engraving: S.E. Shires makers mark and traditional floral pattern