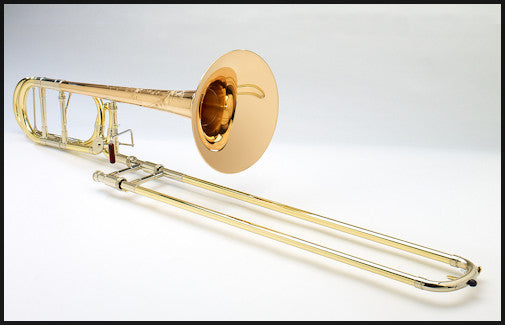 Shires Ralph Sauer Artist Model Tenor Trombone with Dual-Bore F Attachment
Regular price $5,690.00 Sale
The Ralph Sauer Artist Trombone was developed through a close collaboration between Ralph Sauer and the craftsmen of S. E. Shires. The resulting instrument is genuinely unique and includes several specific design elements not found on any other S.E. Shires trombone. The screw-bell collar enhances projection and allows use of a flat case that fits easily into overhead compartments on smaller aircraft. A new, smaller diameter, rotary valve is fast and lightweight, and maintains the bore's cross-sectional area through the valve. Its dual-bore slide (.

525

/ .

547

inch) produces a large-bore sound with a medium-bore effort, while the available .

547

" single-bore slide lends a more open feel. For the standard .

525

/

547

-inch handslide, leadpipes are available for both large and small shank mouthpieces.
RS Bell:

8

.

5

inch, one-piece construction, screw bell (removable flare), hand-hammered, in balanced lightweight red brass with traditionally brazed seam and soldered bead

TY Tuning Slide: yellow brass, drawn tubing

T

25-47

Handslide: .

525

/.

547

-inch dual bore, standard weight yellow brass, nickel-silver crook

M-RS & MT-RS yellow-brass leadpipes for use with small (M) and large-shank (MT) mouthpieces

Bell Engraving: S.E. Shires makers mark and traditional floral pattern